I enjoyed last year's Axis Innovation NYSE event, which showcased hot Israeli startups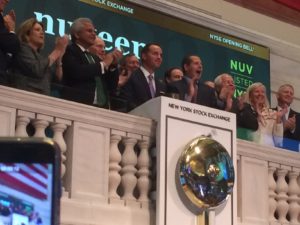 and also included a visit to the floor at the opening bell (you can read more about it here). So when Axis CEO Ed Frank invited me back, I quickly said yes, and attended yesterday.
Axis connects investors and corporations with tech startups. The NYSE session was part of a two day event that includes "leading Israeli series A tech startups and US VCs, angels, and corporate investors… to develop business opportunities and ultimately make deals," according to their site
The keynote was delivered by Uri Tamir of Mobileeye, a paragon of Israeli entrepreneurship, as they are being acquired by Intel for $15B. Below I share highlights of each presenting company.
WeavingThings: An IoT connectivity framework that enables the creation of IoT services from devices and sensors. According to Co-founder Asaf Ezra, WeavingThings simplifies IoT and dramatically reduces time to develop and deploy solutions.
SimpleOrder: A restaurant inventory management platform that optimizes and streamlines back office restaurant operations. It features online purchasing, automatic inventory, real-time food and menu costing, POS sales integration and more. CEO Guy Even Ezra framed the problem by describing an experience we can all relate to. You are at your favorite restaurant, and the waiter says they ran out of a menu item. "We solve a huge problem for food distribution by reversing the supply chain," Guy said.
Rentigo: A property management solution that meets the needs of small and large property managers and landlords while addressing the growing demands of modern tenants with a simple and user-friendly solution. CEO Sivan Blasenheim said that Rentigo is bringing payment tech expertise and a free mobile CRM to real estate, where many still pay by paper check and manage businesses with spreadsheets.
Prifender: Uses artificial intelligence to discover and map personal information across networks and systems so organizations can better manage sensitive data and comply with laws and regulations.
Intervyo: The first and most advanced interview simulation engine. It leverages predictive analytics to screen candidates, and accurately assess their suitability for the job. Veronica (I did not get her last name) said that Intervyo replaces resume and first-round interview screening.
Focuus: Their vision is to automate the entire marketing analysis process, helping advertisers and agencies to scale easily and become market leaders. CEO Yotam Benattia said that most digital marketing systems are passive. Focuus shows campaign KPIs in real time. This helps you adjust course and boost results.
FirstPoint: They offer comprehensive and unique cellular cyber security solutions, protecting enterprise mobile and IoT devices.
Cinch: CEO Maya Komerov said that the app turns your phone into a money-saving wallet. It connects users with local businesses, supporting them while boosting the neighborhood economy.
Beam Networks: Develops active phased array wireless transceivers to support multi-gigabit per second data rates. CEO Stacy Joseph showed off the tiny chip, which replaces large parabolic dishes and is also an alternative to fiber optic buildouts.